Laptop Shuts Down When Lid is Closed Windows 10
Do you want to stop the laptop from shutting down when you close the lid?
Windows 10 Power Options panel gives you the ability to configure Windows to what to do when the laptop lid is closed.
On your Windows 10 laptop, Go to Start Menu | Windows System | Control Panel.
In the Control Panel, click Hardware and Sound, and then Power Options.
In the left pane of the Power Options console, click the link Choose what closing the lid does.
Under the Power and sleep buttons and lid settings, click the drop-down menu labeled When I Close the lid, as shown in the following screenshot.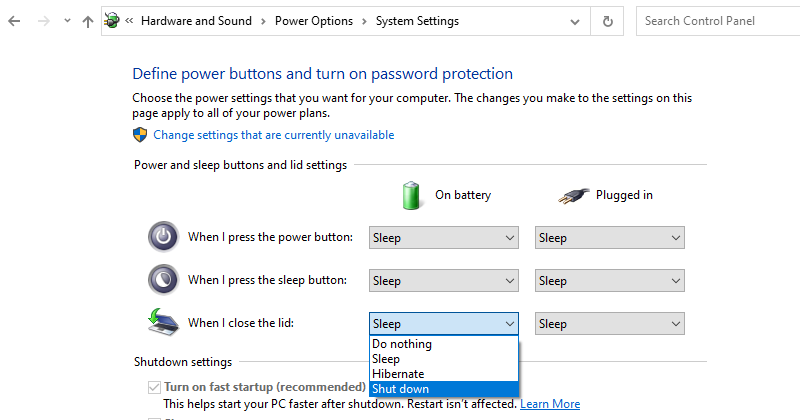 If you select the Sleep option, Windows will put your laptop into sleep mode when the lid is closed.
If you choose Do nothing, your laptop will keep running even when the lid is closed. This option is useful if you connect an external monitor to your laptop so you can keep working while the lid is closed.
Also, note that the control panel gives you two separate drop-down menus to configure lid settings for On battery and plugged-in modes.